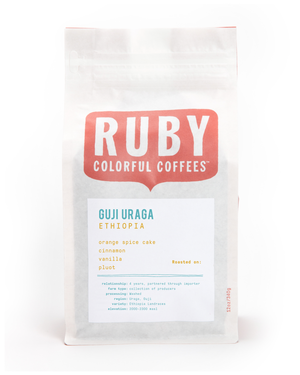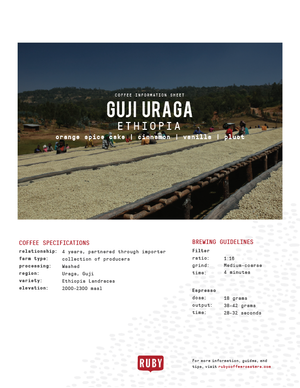 Tasting Notes: Orange Spice Cake - Cinnamon - Vanilla - Pluot
For six years, Ruby has sourced coffee from the Guji Uraga region of Ethiopia. Even though Ruby won a Good Food Award for this coffee back in 2016, it wasn't until 2018 that we were able to establish some transparency with this producer group, giving us the opportunity to source this coffee for the fourth time this season.  This specific lot is sourced from multiple producers in the Guji region. 
Coffee in Ethiopia has to be sold through the Ethiopia Commodities Exchange, which helped many co-operative groups establish better wage transparency based on nationally reported sales prices.  One drawback is that many coffees were then marketed and sold based on region, and the ability to trace a coffee back to the producer was lost for years.
Because the Guji Uraga region is the highest elevation point in Ethiopia, it's one of the very few sites where coffee is grown above 2,000 masl.  The Uraga Wordea is found at the south slope of the South Ethiopian Mountain Escarpment, giving the land topography an impressive range from 2000-2300 masl. Coffee trees here are grown in rich reddish brown nitisol providing excellent structure and nutrients. Once harvested, the coffees are washed and undergo a 60 hour wet fermentation during processing, which helps develop deep sweetness and complex fruit notes. 
This coffee is a perfect example of how pristine processing can create beautiful flavors in a coffee, and we're grateful to be able to make a more direct connection to the coffee producers who are responsible. 
Orders placed by 3:00 p.m. on Sunday, Monday, and Wednesday will roast and ship the next day. Thank you!

DOWNLOAD info sheets
Ruby never disappoints and is one of my go to roasters for coffee ordering, as well as recommendations for others
Evan
Can't say enough good things about your coffees! The beans are always so easy to work with. They make for easy brewing and very flavorful cups. I'm a huge fan and loyal customer for the future!
Justin
I have liked every coffee that I've had from Ruby, and I like how Ruby sources from farms that focus on sustainability.
Bailey
I love the variety of flavors that are presented from different areas of the world.
Randy
I have, for years, received a rotating cast of delicious coffees each month. Each coffee has its own color and profile. I embrace the delicious variety and couldn't choose a single favorite.
Kyle
The roast style offers great blends that appeal to all, but also offers exotic single-origin beans directly from specific farms.
Mark
Thank you for always providing fantastic coffee. It is so satisfying knowing that each morning I can enjoy a refreshing cup of coffee made by good people who know good people.
Matt