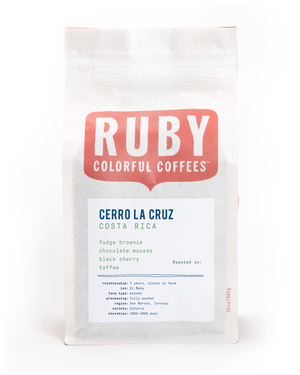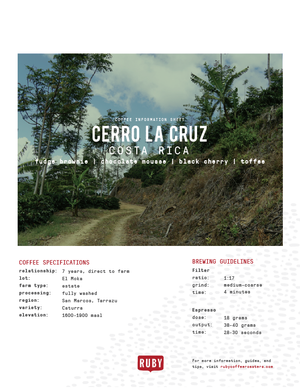 Tasting Notes: Fudge Brownie- Chocolate Mousse - Black Cherry - Toffee
Siblings Caesar and Jeison Esquivel and their families have a beautiful stretch of land along the high elevation, rolling mountains in Tarrazu, Costa Rica. This season we have selected two lots from their farm Cerro La Cruz: 'Ruby' and 'Mango,' which are both delightful expressions of how great coffee from this region can be. 
The climate is warm, yet crisp and the layers of fog ebb and flow as the nighttime temps dip down and the daytime temps creep back up. In 2016 the family made the brave and risky decision to invest in a micro mill on the farm to process their own coffee and take more control over its quality. The alternative was to deliver to a cooperative and have less knowledge of where their coffee ends up, less transparency in price control, and more. This type of risk — assuming the financial burden of a new processing facility — rings oddly familiar for Ruby, mirroring our own journey starting a roastery in Central Wisconsin. 
They've also invested heavily in infrastructure for drying their coffee for maximum flavor and stability and they utilize their mill to separate micro lots and push experiments. 
In 2017 Jared was able to travel to the farm and make a strong personal connection. These coffees were his favorites from the region, and Ruby was able to be the first US roaster to visit Cerro La Cruz and begin a partnership.
Ruby works directly with Cerro La Cruz to negotiate pricing, sourcing lots, and coordinating exporting efforts. The commitment to our partnership gives both Ruby and CLC consistency and clarity, year after year, into what the cost of production is now that processing is handled in house, and what fair prices for their coffees actually are. 
We're absolutely thrilled to be able to partner with the Esquivel family on this coffee and future endeavors as well.
12 oz / 340 g.
Orders placed by 4:00 p.m. on Sunday, Monday, and Wednesday will roast and ship the next day. Thank you!
DOWNLOAD info sheets
Ruby never disappoints and is one of my go to roasters for coffee ordering, as well as recommendations for others
Evan
Can't say enough good things about your coffees! The beans are always so easy to work with. They make for easy brewing and very flavorful cups. I'm a huge fan and loyal customer for the future!
Justin
I have liked every coffee that I've had from Ruby, and I like how Ruby sources from farms that focus on sustainability.
Bailey
I love the variety of flavors that are presented from different areas of the world.
Randy
I have, for years, received a rotating cast of delicious coffees each month. Each coffee has its own color and profile. I embrace the delicious variety and couldn't choose a single favorite.
Kyle
The roast style offers great blends that appeal to all, but also offers exotic single-origin beans directly from specific farms.
Mark
Thank you for always providing fantastic coffee. It is so satisfying knowing that each morning I can enjoy a refreshing cup of coffee made by good people who know good people.
Matt