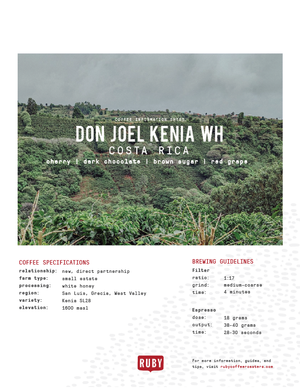 Tasting Notes: Cherry- Dark Chocolate - Brown Sugar -Red Grape
Located in the scenic West Valley region of Costa Rica, the Don Joel farm spans just 12 hectares. Despite its modest size, it yields an impressive 350 fanegas (a Costa Rican term to measure weight of coffee harvested) per harvest, boasting its very own washing mill. Allan Oviedo has been the proud owner of Don Joel for a decade now, and manages farm operations together with his son Ignacio.  Among ten siblings, Allan is one of five involved in the coffee industry. One of his brothers owns the neighboring farm and supplies specialty coffee to the Don Joel wet mill for processing.
Notably, over half of the coffee grown at Don Joel is the Kenia variety showcased in this special white honey processed lot. Following harvest, the coffee cherries are depulped and mechanically washed, leaving minimal mucilage on each bean. This year, a brand new drum dryer facilitates the drying process for some coffee lots.  The shift towards mechanical drying methods is becoming more and more necessary in Costa Rica coffee farming as producers adapt to climate change. Traditionally, producers have relied on sunny and dry weather during summer harvest, but this season's erratic and untimely rainfall has prompted farmers to explore alternative drying techniques.
In March 2023, Ruby Team Members Katy and Ashley had the pleasure of meeting Allan at Don Joel during their trip to Costa Rica. Here's what they had to say:
"We met Allan on an unusually rainy day just outside of Grecia, Costa Rica. Getting to the Don Joel farm requires a truck, as the roads are steep and rocky, but the views are incredible. The farm is surrounded by magnificent landscape, sitting just below Volcan Poas and bordering Grecia Forest Reserve. The hills are covered in coffee trees, with many nearby farms owned by Allan's siblings. 
We fell in love with Allan's passion for sustainable farming and his coffee expertise. He is particularly proud of his Kenia variety, and his coffees routinely place in the Cup of Excellence, reflecting his hard work. We are so excited to bring these coffees to our menu. While favorites on the cupping table, knowing who cares for them makes them even more special."
12 oz / 340 g.
Orders placed by 4:00 p.m. on Sunday, Monday, and Wednesday will roast and ship the next day. Thank you!
DOWNLOAD info sheets
Ruby never disappoints and is one of my go to roasters for coffee ordering, as well as recommendations for others
Evan
Can't say enough good things about your coffees! The beans are always so easy to work with. They make for easy brewing and very flavorful cups. I'm a huge fan and loyal customer for the future!
Justin
I have liked every coffee that I've had from Ruby, and I like how Ruby sources from farms that focus on sustainability.
Bailey
I love the variety of flavors that are presented from different areas of the world.
Randy
I have, for years, received a rotating cast of delicious coffees each month. Each coffee has its own color and profile. I embrace the delicious variety and couldn't choose a single favorite.
Kyle
The roast style offers great blends that appeal to all, but also offers exotic single-origin beans directly from specific farms.
Mark
Thank you for always providing fantastic coffee. It is so satisfying knowing that each morning I can enjoy a refreshing cup of coffee made by good people who know good people.
Matt