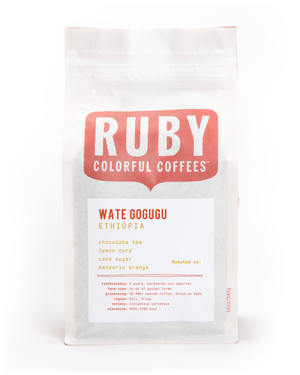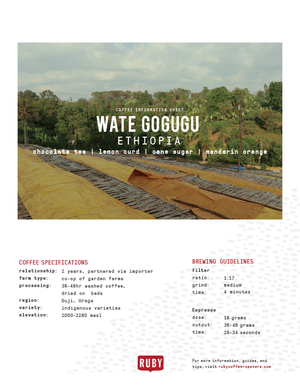 Tasting Notes: Chocolate Tea - Lemon Curd - Cane Sugar - Manderine Orange
The farms of Wate Gogugu are some of the newest coffee farms in all of Ethiopia, where coffee's long history is well known.  Although many of the coffee trees growing in Wate Gogugu are only around 5-10 years old, Kadir Jabril and his brothers have quickly become recognized as producing some of the most sought after coffees in Ethiopia and putting the district of Uraga on the map. 
Uraga, though known for its extremely high elevation, hadn't previously been known to produce high quality coffees. Having previous backgrounds along with family history in coffee, Kadir and his two brothers, Abdi and Feku saw an untapped opportunity and truly recognized the quality potential that was there. Though, because of the high altitude, the coffees had to be given an extra amount of special care to show that potential. In just a short time apart, Kadir and his brothers each founded a washing station in the region, focusing on methodical processing and high quality standards. 
Kadir's washing station processes coffees from his own farm and sources almost exclusively from the community around them with little to no coffees coming from other keebles or communities. It is remarkable for a family to have just one site producing extraordinary coffees, yet these 3 brothers show what's possible by bringing a level of focus that is rarely seen in the Ethiopian coffee industry.
The work and dedication of the Jabril brothers, Kadir in particular, cannot go unrecognized. We're excited to offer Wate Gogugu for the second year in a row, and once again drawn to its elegant flavor profile with intense floral notes and fruity, citrus aroma. The extreme altitudes mixed with young trees and nutrient dense soil produce an exceptional cup of coffee with tropical flavors and a lively citrus profile.
Orders placed by 4:00 p.m. on Sunday, Monday, and Wednesday will roast and ship the next day. Thank you!
DOWNLOAD info sheets
Ruby never disappoints and is one of my go to roasters for coffee ordering, as well as recommendations for others
Evan
Can't say enough good things about your coffees! The beans are always so easy to work with. They make for easy brewing and very flavorful cups. I'm a huge fan and loyal customer for the future!
Justin
I have liked every coffee that I've had from Ruby, and I like how Ruby sources from farms that focus on sustainability.
Bailey
I love the variety of flavors that are presented from different areas of the world.
Randy
I have, for years, received a rotating cast of delicious coffees each month. Each coffee has its own color and profile. I embrace the delicious variety and couldn't choose a single favorite.
Kyle
The roast style offers great blends that appeal to all, but also offers exotic single-origin beans directly from specific farms.
Mark
Thank you for always providing fantastic coffee. It is so satisfying knowing that each morning I can enjoy a refreshing cup of coffee made by good people who know good people.
Matt