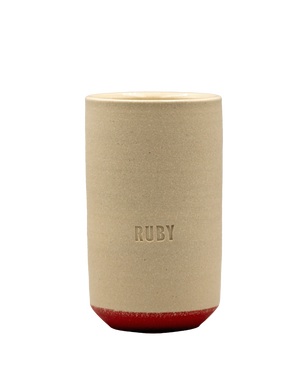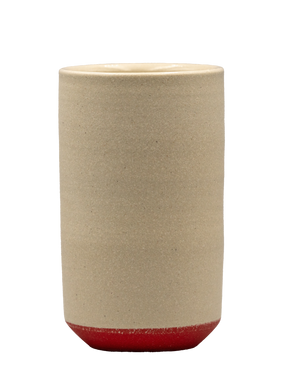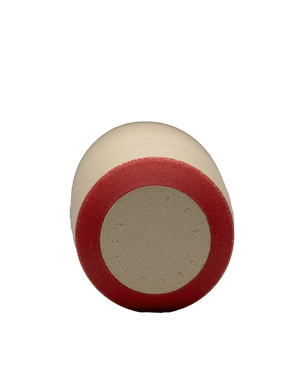 These beautiful mugs are the result of a long-term friendship between Ruby founder Jared and PKK artist Phill Kim dating back to 2008, when the two worked together in Los Angeles.
Ruby has been working with Phill on custom coffee tumblers since 2016. We love his attention to detail along with the simplicity and elegance in his handmade ceramics. 
This year's design is an update to our previous collaboration: the tumbler features a slight taper towards the lip and has a natural clear cracked glaze that will develop a beautiful patina over years of drinking coffee, making each cup uniquely custom to the owner. They feature a 'RUBY' stamp on one side and a neatly painted red glaze base. 
See more of Phill's work at on his website.
Approximately 14oz. Each tumbler is hand-crafted, so please allow for some natural variance from cup to cup and minor imperfections.
Ruby never disappoints and is one of my go to roasters for coffee ordering, as well as recommendations for others
Evan
Can't say enough good things about your coffees! The beans are always so easy to work with. They make for easy brewing and very flavorful cups. I'm a huge fan and loyal customer for the future!
Justin
I have liked every coffee that I've had from Ruby, and I like how Ruby sources from farms that focus on sustainability.
Bailey
I love the variety of flavors that are presented from different areas of the world.
Randy
I have, for years, received a rotating cast of delicious coffees each month. Each coffee has its own color and profile. I embrace the delicious variety and couldn't choose a single favorite.
Kyle
The roast style offers great blends that appeal to all, but also offers exotic single-origin beans directly from specific farms.
Mark
Thank you for always providing fantastic coffee. It is so satisfying knowing that each morning I can enjoy a refreshing cup of coffee made by good people who know good people.
Matt