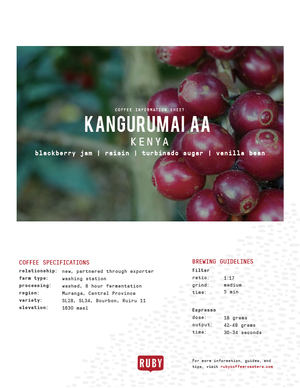 Tasting Notes:  Blackberry Jam- Raisin - Turbinado Sugar - Vanilla Bean
Kangurumai is one of five factories included in the Kangiri Farmers Cooperative Society amongst New Irati, Kanguya, Gatumbi, and Kanjathi. Located in Muranga County on the slopes of the Aberdare Mountain Range, the Cooperative was established in the 1980's and became well known for its meticulous quality control practices. Nearly 5 years ago, the factories worked together to form a special committee dedicated to ensuring fair wages to farmers for their coffee cherries. 
The Kangurumai factory in particular, processes coffee harvested from about 250 trees on half acre plots from the rich volcanic soil of the surrounding farms. Only the ripest cherries are delivered to the factory where they are then hand sorted and floated to remove any defective beans before processing. Once the coffee is depulped, fermented and washed, it's soaked in freshwater that comes from the nearby Kanyirir Spring which helps to solidify that hallmark Kenyan flavor profile. 
Over the next two weeks, coffee is dried on raised beds that were optimally constructed for proper air circulation and temperature control to ensure effective and efficient drying. Beans are then sorted by size and shape using screens. Larger beans are labeled as the AA category, which are known for their fruity and sweet flavor profile
12 oz / 340 g. Whole bean.
Orders placed by 3:00 p.m. on Sunday, Monday, and Wednesday will roast and ship the next day. Thank you!

DOWNLOAD info sheet
Ruby never disappoints and is one of my go to roasters for coffee ordering, as well as recommendations for others
Evan
Can't say enough good things about your coffees! The beans are always so easy to work with. They make for easy brewing and very flavorful cups. I'm a huge fan and loyal customer for the future!
Justin
I have liked every coffee that I've had from Ruby, and I like how Ruby sources from farms that focus on sustainability.
Bailey
I love the variety of flavors that are presented from different areas of the world.
Randy
I have, for years, received a rotating cast of delicious coffees each month. Each coffee has its own color and profile. I embrace the delicious variety and couldn't choose a single favorite.
Kyle
The roast style offers great blends that appeal to all, but also offers exotic single-origin beans directly from specific farms.
Mark
Thank you for always providing fantastic coffee. It is so satisfying knowing that each morning I can enjoy a refreshing cup of coffee made by good people who know good people.
Matt