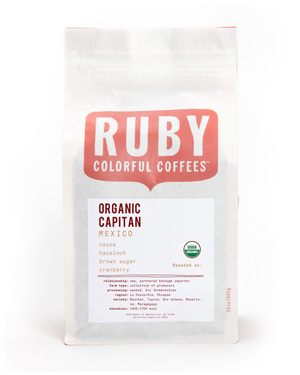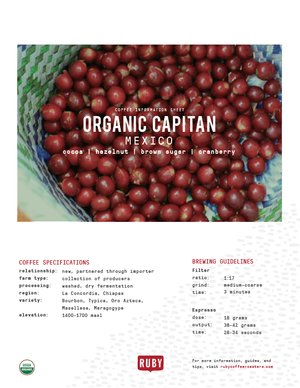 Tasting Notes: Cocoa - Hazelnut - Brown Sugar - Cranberry
The region of Chiapas is a fairly new endeavor in coffee sourcing for us here at Ruby. While our importing partners typically rely heavily on sourcing many coffees from Mexico from the region of Oaxaca, they've taken on exciting and unique opportunities to expand their reach to the areas of Chiapas and Veracruz. Distinct from Oaxaca, Chiapas presents diverse avenues for building relationships with coffee producers and their communities while allowing for our importer to continue expanding the specialty coffee market in the region. 
Chiapas boasts a strong culture of organic production and cooperativism. Recently, it has embraced new processes, introduced new coffee varieties, and made commendable efforts to combine environmentally sustainable yet profitable coffee production with the protection of vital biosphere reserves. Partnering with producers in Chiapas creates opportunity for future substantial high-end lots from individual producers who collaboratively work with their communities to uplift the ecosystem as a whole.
This special microlot comes specifically from the farm of Cafe Capitan. About two years ago, Cafe Capitan broke off from a larger umbrella cooperative to pursue coffee farming on their own. Their main focus is the goal of producing higher quality coffees and delivering higher quality premiums to farmers. They work with farmers in nearby Pueblos of Comunidad Monterey, Santerita, Laguna del Cofre, Capitan, and Las Pilas. We were drawn to Capitan's rich and sweet profile that also presented a surprising acidity that creates another beautifully complex cup for you to enjoy!
12 oz / 340 g. Whole bean.
Orders placed by 3:00 p.m. on Sunday, Monday, and Wednesday will roast and ship the next day. Thank you!
DOWNLOAD info sheets
Ruby never disappoints and is one of my go to roasters for coffee ordering, as well as recommendations for others
Evan
Can't say enough good things about your coffees! The beans are always so easy to work with. They make for easy brewing and very flavorful cups. I'm a huge fan and loyal customer for the future!
Justin
I have liked every coffee that I've had from Ruby, and I like how Ruby sources from farms that focus on sustainability.
Bailey
I love the variety of flavors that are presented from different areas of the world.
Randy
I have, for years, received a rotating cast of delicious coffees each month. Each coffee has its own color and profile. I embrace the delicious variety and couldn't choose a single favorite.
Kyle
The roast style offers great blends that appeal to all, but also offers exotic single-origin beans directly from specific farms.
Mark
Thank you for always providing fantastic coffee. It is so satisfying knowing that each morning I can enjoy a refreshing cup of coffee made by good people who know good people.
Matt