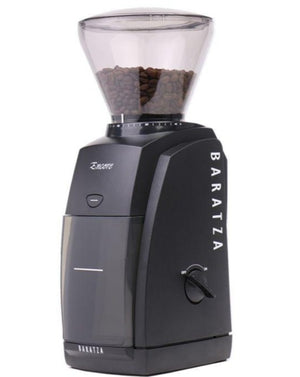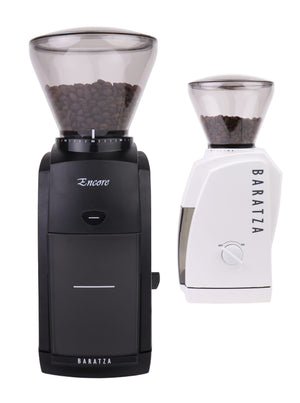 The Baratza Encore provides consistent grinds for brew methods from espresso to French Press and everything in between. Straightforward controls make your daily routine simple and easy. Load up your hopper with your favorite beans, turn the hopper to the grind setting you want, switch the Baratza Encore on and let the precision conical burrs deliver consistent, quality ground coffee every time. Beyond a great coffee-making experience, the Encore lets you explore new coffee flavors –  With 40 individual grind settings, you can find the perfect grind size for all brewing methods. The hopper can hold 8 ounces of whole beans, and the clear grounds bin has a fill line to indicate how much to grind. We intentionally designed the Encore to fit nicely under most kitchen cabinets without sacrificing power or quality and to bring value to your daily grind

The Encore is the ultimate entry level grinder. It delivers amazing grind quality at an approachable price point and is designed for years of use. 
Sold by Ruby, fulfilled by Baratza and will ship separately. Orders will ship within 2 business days. Please note, Baratza is not able to ship to PO boxes. 
Ruby never disappoints and is one of my go to roasters for coffee ordering, as well as recommendations for others
Evan
Can't say enough good things about your coffees! The beans are always so easy to work with. They make for easy brewing and very flavorful cups. I'm a huge fan and loyal customer for the future!
Justin
I have liked every coffee that I've had from Ruby, and I like how Ruby sources from farms that focus on sustainability.
Bailey
I love the variety of flavors that are presented from different areas of the world.
Randy
I have, for years, received a rotating cast of delicious coffees each month. Each coffee has its own color and profile. I embrace the delicious variety and couldn't choose a single favorite.
Kyle
The roast style offers great blends that appeal to all, but also offers exotic single-origin beans directly from specific farms.
Mark
Thank you for always providing fantastic coffee. It is so satisfying knowing that each morning I can enjoy a refreshing cup of coffee made by good people who know good people.
Matt