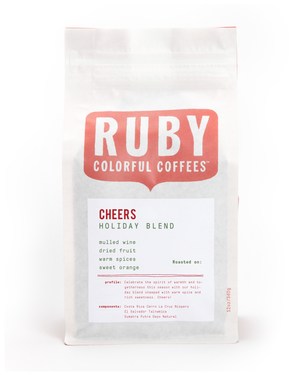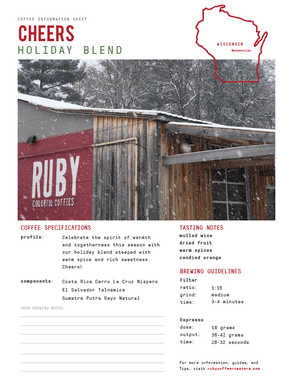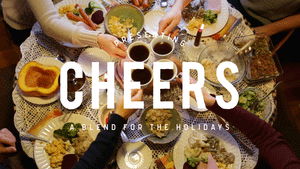 Tasting Notes: Mulled Wine - Dried Fruit - Warm Spices - Sweet Orange
Every Holiday season we look forward to the development and release of our Cheers blend. For our Eighth annual release we have created a blend that is both delicate and decadent! The current components are Costa Rica Cerro La Cruz Nispero, El Salvador Talnamica, and Sumatra Putra Gayo Natural. We love the way these flavors play off of each other, and the resulting cup hits all the flavors that we think pair well with a Wisconsin winter: dried fruits, warm spices, and a deep sweetness.
This year's blend shows the importance of commitments. We've long held commitments to working with the Mendez family of El Salvador Talnamica and the Esquival family of Cerro La Cruz. By buying their coffees year after year, we've been able to plan for how their coffees fit into our lineup as single origin releases and even plan for their inclusion in Cheers. We like to think that the winter season is about coming together, and Cheers itself represents bringing together the best coffees in our lineup for a spectacular blend. 
Developing Cheers every year takes time and thought: we always want to highlight seasonal coffee — showcasing peak quality of the coffee as it was harvested from the farm. At the same time, we always want to find a beautiful flavor profile that warms our cups and our bellies for the cold winter setting in. You might not have the same sort of winter that we do here in Nelsonville, but putting together Cheers is our way of bringing our little corner of Central Wisconsin to wherever you are. Celebrate the work of quality-focused coffee production as you celebrate the season, and grab a bag of Cheers today for you, or for a loved one.
12 oz / 340 g.
Orders placed by 3:00 p.m. on Sunday, Monday, and Wednesday will roast and ship the next day. Thank you!
DOWNLOAD info sheets
Ruby never disappoints and is one of my go to roasters for coffee ordering, as well as recommendations for others
Evan
Can't say enough good things about your coffees! The beans are always so easy to work with. They make for easy brewing and very flavorful cups. I'm a huge fan and loyal customer for the future!
Justin
I have liked every coffee that I've had from Ruby, and I like how Ruby sources from farms that focus on sustainability.
Bailey
I love the variety of flavors that are presented from different areas of the world.
Randy
I have, for years, received a rotating cast of delicious coffees each month. Each coffee has its own color and profile. I embrace the delicious variety and couldn't choose a single favorite.
Kyle
The roast style offers great blends that appeal to all, but also offers exotic single-origin beans directly from specific farms.
Mark
Thank you for always providing fantastic coffee. It is so satisfying knowing that each morning I can enjoy a refreshing cup of coffee made by good people who know good people.
Matt