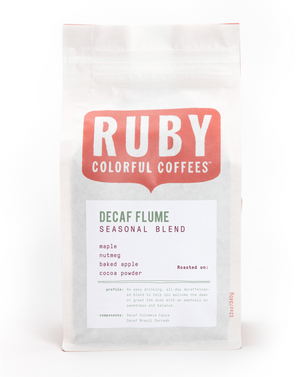 Tasting Notes: Maple - Nutmeg - Baked Apple - Cocoa Powder
Flume Creek is a small trout stream near the location of our original roastery in unincorporated Portage County. There are a few small bridges that it passes under that make for a particularly scenic stop while cycle touring on country roads. The name has always given us a little bit of poetic pause. Flume feels soft, rolling, country, gentle. When we were envisioning a name around our new Decaf blend concept, this felt like the perfect alignment. Flume Decaf blend is meant to be an all day drinker, a sweet and reliable cup to go to in those evenings when you've come in out of the cold and want something to warm up to.
Flavor wise it is rich and robust, with the base coffee a really creamy and chocolaty water process from Brazil. The other half is a complex, lightly fruity coffee from Colombia. The two together make a great match and are a great option for espresso.  It's namesake, a flume, is a man-made channel designed to move materials, like logs, around different obstacles or bodies of water.
Though it usually doesn't get as much attention as it's caffeinated counterpart, decaffeinated coffee takes much more time, effort, and energy to produce to high quality standards. While the regular flow for coffee is to move through shipping networks directly to roasting warehouses, decaffeinated coffee has to take an alternative route to a decaffeination plant first.
At Ruby, we drink a lot of decaf coffee. It's the only way we drink coffee all day long like we want to! Developing Decaf Flume Seasonal Blend was our way of making amazing quality decaf coffee available in a year-round blend designed to deliver a consistent flavor profile with amazing flavor quality, We really hope you like drinking it as much as we do.
12 oz / 340 g whole bean
Orders placed by 4:00 p.m. on Sunday, Monday, and Wednesday will roast and ship the next day. Thank you!
DOWNLOAD info sheets
Ruby never disappoints and is one of my go to roasters for coffee ordering, as well as recommendations for others
Evan
Can't say enough good things about your coffees! The beans are always so easy to work with. They make for easy brewing and very flavorful cups. I'm a huge fan and loyal customer for the future!
Justin
I have liked every coffee that I've had from Ruby, and I like how Ruby sources from farms that focus on sustainability.
Bailey
I love the variety of flavors that are presented from different areas of the world.
Randy
I have, for years, received a rotating cast of delicious coffees each month. Each coffee has its own color and profile. I embrace the delicious variety and couldn't choose a single favorite.
Kyle
The roast style offers great blends that appeal to all, but also offers exotic single-origin beans directly from specific farms.
Mark
Thank you for always providing fantastic coffee. It is so satisfying knowing that each morning I can enjoy a refreshing cup of coffee made by good people who know good people.
Matt