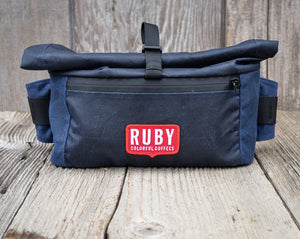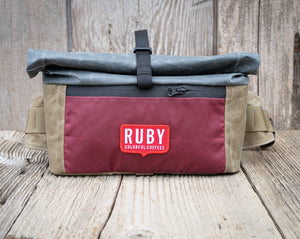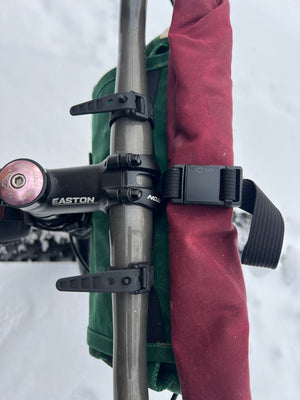 Randi Jo and her husband Eric own Randi Jo Fab, makers of a small line of super high quality bicycle-oriented products. They use the best materials and sew everything in house. We have been big fans of theirs for years, personally using their nifty stem grab bag pouch (Bartender) on our bikes.  
Like us, they are a small operation located in a rural town. 
In 2019 Jared emailed Randi to ask about collaborating to create a hip pack that could be used on and off the bike. Their waxed canvas ages beautifully and everything they make is both supremely functional and durable. We started with a prototype that led to some revisions, then another, and now the finished product is available! 
We're so excited to introduce this very special, limited edition offering. There are so many careful details to highlight: 
Attachment points to use as a handlebar bag on a bike (6" Voile or similar straps work well. Go longer if using foam spacers). 

Rear pouch to tuck waist strap when in use on a handlebar

Easily adjustable waist strap

Zipper exterior pocket

Mag lock closure for roll top

Button snap closure 

Water-resistant waxed materials. This will keep water out in mild to moderate rain, but isn't entirely waterproof. 

Daisy chain attachment points along the belt for a carabiner or other accessories (Garmin InReach mini, etc)

Sewn on Ruby patch

Interior organizing pockets with snap button closures

Contrasting and complementing colors & materials throughout!

Weight approximately 360g / 12.7oz. 


Dimensions (unpacked): 12" wide, 2.5" deep, 8" tall (rolled down)
Ruby never disappoints and is one of my go to roasters for coffee ordering, as well as recommendations for others
Evan
Can't say enough good things about your coffees! The beans are always so easy to work with. They make for easy brewing and very flavorful cups. I'm a huge fan and loyal customer for the future!
Justin
I have liked every coffee that I've had from Ruby, and I like how Ruby sources from farms that focus on sustainability.
Bailey
I love the variety of flavors that are presented from different areas of the world.
Randy
I have, for years, received a rotating cast of delicious coffees each month. Each coffee has its own color and profile. I embrace the delicious variety and couldn't choose a single favorite.
Kyle
The roast style offers great blends that appeal to all, but also offers exotic single-origin beans directly from specific farms.
Mark
Thank you for always providing fantastic coffee. It is so satisfying knowing that each morning I can enjoy a refreshing cup of coffee made by good people who know good people.
Matt