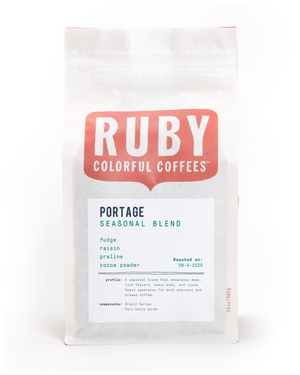 Tasting Notes: Fudge - Raisin - Praline - Cocoa Powder
In our business, Ruby works to build connections. We are often faced with the exciting challenge of throwing it all on our shoulders and blazing our own trail along the way. From a flavor standpoint for this blend, we have sourced coffees and developed a roast profile that emphasizes comfort and sweetness.
"Accessibility" is a word we use often, from how we roast to how we communicate about brewing. Like Creamery, Portage will perform well across all brewing applications as a versatile blend, including both drip and espresso. The flavor profiles focuses more chocolate and malty flavors over brighter acidity and citrus flavors.
Portage is based around coffees from the Carmo group in Brazil, who work with small farms to elevate coffee quality and showcase the beautiful specialty coffees that come from Brazil. 
Though the components of Portage will rotate seasonally to reflect fresh arrivals, the goal always stays the same: to find new ways to connect over coffee.
12 oz / 340 g whole bean
Orders placed by 4:00 p.m. on Sunday, Monday, and Wednesday will roast and ship the next day. Thank you!
DOWNLOAD info sheets
Ruby never disappoints and is one of my go to roasters for coffee ordering, as well as recommendations for others
Evan
Can't say enough good things about your coffees! The beans are always so easy to work with. They make for easy brewing and very flavorful cups. I'm a huge fan and loyal customer for the future!
Justin
I have liked every coffee that I've had from Ruby, and I like how Ruby sources from farms that focus on sustainability.
Bailey
I love the variety of flavors that are presented from different areas of the world.
Randy
I have, for years, received a rotating cast of delicious coffees each month. Each coffee has its own color and profile. I embrace the delicious variety and couldn't choose a single favorite.
Kyle
The roast style offers great blends that appeal to all, but also offers exotic single-origin beans directly from specific farms.
Mark
Thank you for always providing fantastic coffee. It is so satisfying knowing that each morning I can enjoy a refreshing cup of coffee made by good people who know good people.
Matt