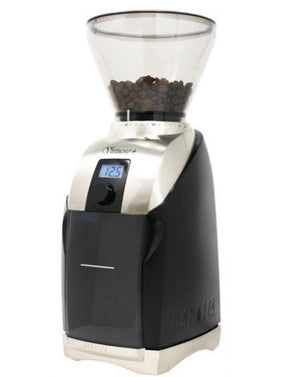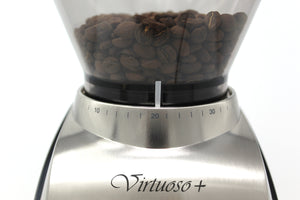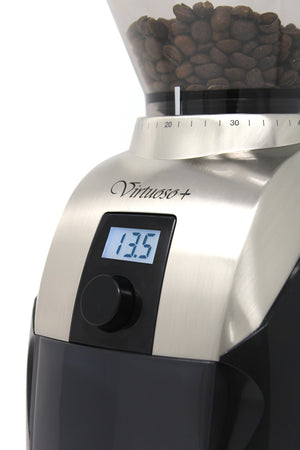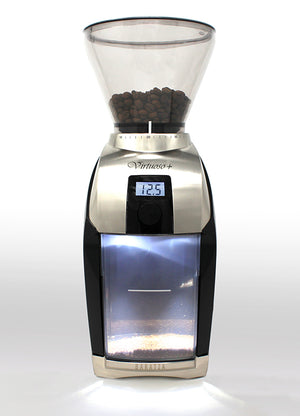 The Virtuoso+ delivers a clean, café-quality taste to your cup thanks to a high performance conical burr set that produces uniform grind particles for balanced flavor notes. Find the perfect grind size with 40 individual settings for any method you feel in the mood to brew, from espresso to French Press. Easily control and replicate the perfect grind amount for your brew with the help of a digital screen and an intuitive interface. The Virtuoso+ grinds fast, keep an eye on the grinding action through the clear grounds bin, backlit with LEDs. The Virtuoso+ marries form and function for a stylish brewing tool that allows you to explore the vast range of flavor profiles. Fast forward your coffee journey with consistency and reliability while complimenting your coffee setup.
The Virtuoso+ is the best grinder Ruby recommends for brewed coffee. The grind quality is unmatched, the build quality is sturdy, and the coffee tastes delicious. 
Sold by Ruby, fulfilled by Baratza and will ship separately. Orders shipped within 2 business days. Please note, Baratza is not able to ship to PO boxes. 
Ruby never disappoints and is one of my go to roasters for coffee ordering, as well as recommendations for others
Evan
Can't say enough good things about your coffees! The beans are always so easy to work with. They make for easy brewing and very flavorful cups. I'm a huge fan and loyal customer for the future!
Justin
I have liked every coffee that I've had from Ruby, and I like how Ruby sources from farms that focus on sustainability.
Bailey
I love the variety of flavors that are presented from different areas of the world.
Randy
I have, for years, received a rotating cast of delicious coffees each month. Each coffee has its own color and profile. I embrace the delicious variety and couldn't choose a single favorite.
Kyle
The roast style offers great blends that appeal to all, but also offers exotic single-origin beans directly from specific farms.
Mark
Thank you for always providing fantastic coffee. It is so satisfying knowing that each morning I can enjoy a refreshing cup of coffee made by good people who know good people.
Matt