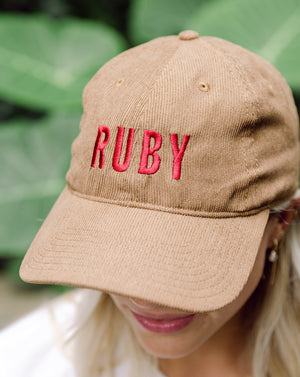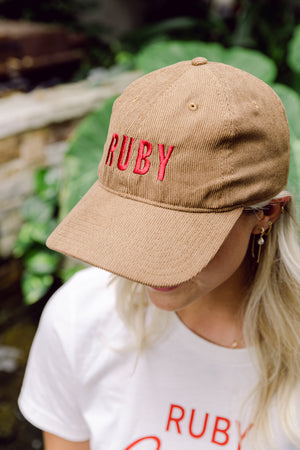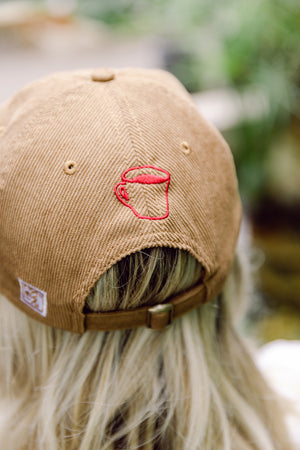 The custom designed and embroidered Ruby Corduroy Hat was designed in collaboration with Ellen Larson of Studio Mode Designs. Ellen is a native of Rosholt, Wisconsin and went to the same high school as our founder Jared. We were excited to partner with someone as talented as Ellen who was not only familiar with the Ruby brand, but could also garner inspiration from our small town roots. 
50/50 polyester/nylon, corduroy
Unstructured, six-panel, low-profile
Pre-curved visor
Tri-glide buckle closure
Ruby never disappoints and is one of my go to roasters for coffee ordering, as well as recommendations for others
Evan
Can't say enough good things about your coffees! The beans are always so easy to work with. They make for easy brewing and very flavorful cups. I'm a huge fan and loyal customer for the future!
Justin
I have liked every coffee that I've had from Ruby, and I like how Ruby sources from farms that focus on sustainability.
Bailey
I love the variety of flavors that are presented from different areas of the world.
Randy
I have, for years, received a rotating cast of delicious coffees each month. Each coffee has its own color and profile. I embrace the delicious variety and couldn't choose a single favorite.
Kyle
The roast style offers great blends that appeal to all, but also offers exotic single-origin beans directly from specific farms.
Mark
Thank you for always providing fantastic coffee. It is so satisfying knowing that each morning I can enjoy a refreshing cup of coffee made by good people who know good people.
Matt