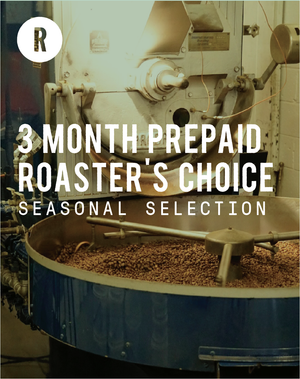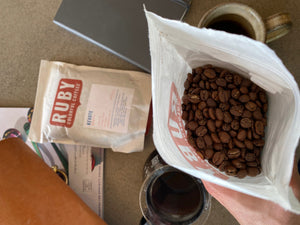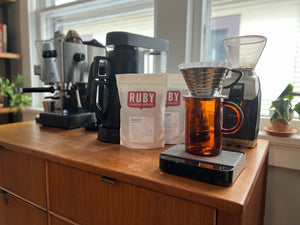 Ruby's Pre-Paid 3 Month Roaster's Choice Gift Subscription is a subscription that delivers two 8oz bags of coffee once a month for three months. Roaster's Choice selections are two of the best coffees that Ruby has to offer delivered right to your front door. 
Your first order will ship on our next production day (Monday, Tuesday, or Thursday). Future orders will ship a month from the first order, and will end at three total shipments. 
The price for this subscription includes all three shipments, plus shipping for all three coffees. 
Please note that quantity reflects how many pairs of 8oz bags will come with each subscription, i.e. if you select "2" for quantity you'll be shipped 4x 8oz bags. 
Currently, as Ruby plans adjustments to our unroasted coffee inventory, selections may overlap on some months instead of rotating exactly on the first.

If you'd like to have a physical certificate to give to your gift recipient explaining the gift, you can download and print out this certificate

 

here.
Ruby never disappoints and is one of my go to roasters for coffee ordering, as well as recommendations for others
Evan
Can't say enough good things about your coffees! The beans are always so easy to work with. They make for easy brewing and very flavorful cups. I'm a huge fan and loyal customer for the future!
Justin
I have liked every coffee that I've had from Ruby, and I like how Ruby sources from farms that focus on sustainability.
Bailey
I love the variety of flavors that are presented from different areas of the world.
Randy
I have, for years, received a rotating cast of delicious coffees each month. Each coffee has its own color and profile. I embrace the delicious variety and couldn't choose a single favorite.
Kyle
The roast style offers great blends that appeal to all, but also offers exotic single-origin beans directly from specific farms.
Mark
Thank you for always providing fantastic coffee. It is so satisfying knowing that each morning I can enjoy a refreshing cup of coffee made by good people who know good people.
Matt